My works, initially made of clay, can be then reproduced in various materials.
---
BRONZE
Made at the Fonderie d'Art d'Inverness – www.fonderieart.com
Material of acknowledged nobility.
---
COLD CAST BRONZE
Mixture of bronze powder and a very hard resin in the external layers of the piece. The piece is then filled with the resin. The surface is polished to enhance the included bronze. Finally, wax is be applied to protect the work.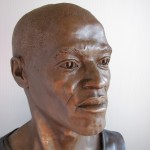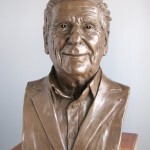 Examples of works with Cold Cast bronze
---
COLD CAST DOLOMITE
Dolomite dust (lime stone) is mixed to a transparent resin. The piece is entirely filled of the mixture. Its aspect, feeling to the touch and transparency (noticeable on the thinner parts of the work) is reminiscent of marble.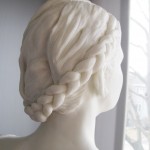 Examples of works with Cold Cast dolomite
---
HYDROSTONE
Reconstituted stone like a plaster that can be painted.